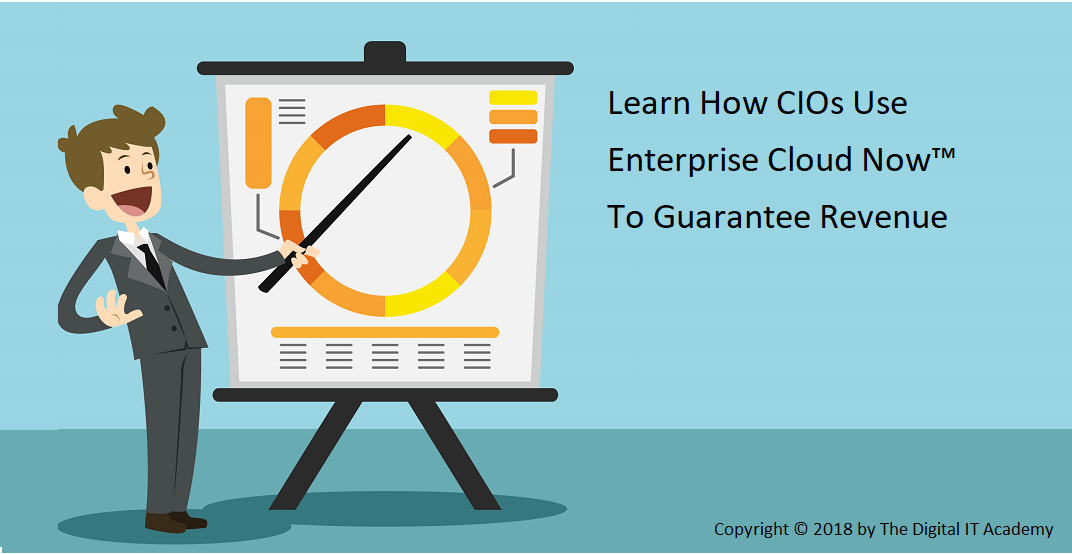 Demonstrating leadership at connecting the dots between cloud engineering, business model transformation, and innovation implementation to yield profits is the skill you'll get if you attend the online keynote speech your IT leader peers have been watching for a moment: Transform Your Business with Enterprise Cloud Now™. It's available for you right now!

You need it, here is why!
As digital business becomes a priority, your competitors are realizing the poor impact of cloud on their company's revenue.
IT leaders' habit to express business expectations in terms of system availability, mean time to repair, latency, bandwidth, workload, scalability, is incompatible with the requirements of today's disrupted markets. These IT metrics tell how well your IT department is doing, but give no clue as to the only things that matter to your company right now: revenue and its three drivers—innovation, agility, and responsiveness.
How can you implement or re-engineer your cloud capability in a way that yields revenue? How to deploy cloud services across your company's operational model to establish innovation and increase agility and responsiveness? These are your challenges for the next three years. Conventional vendors and consultants struggle to help with it. I have the solution.
Have you heard about the keynote that's changing cloud Implementation?
I'm Philippe Abdoulaye an international consultant, author, and speaker in the area of digital transformation. I've been advocating through conferences and workshops around the globe, the urgency for IT departments and cloud vendors to focus on how cloud could be leveraged to increase the business revenue.
While 90% of the materials on cloud—blog posts, webinars, tutorials, videos, podcasts, keynote speeches—stress its general concepts, technical features, and implementation details, the online keynote speech, Transform Your Business with Enterprise Cloud Now™, tells you in less than an hour the key information you need to implement it as the catalyst of your business revenue.
That innovative training is an unique set of recipes and recommendations around the three legs of the new business transformation thinking:
Digital strategy development
Operational model transformation
Cloud engineering and implementation
They're arranged into an integrated migration approach that will make your company's transition to cloud fast, safe, and more importantly, profitable.
Tremendous benefits will boost your company's competitiveness, change your career, and life
This online conference fills the gaps of conventional cloud training and builds on a five-stage learning journey to bring out the impacts of disrupted industries on your business. It provides three keys you need to make your company invulnerable to Google, Amazon, Facebook, Apple:
Adjusting your business strategy to the constraints of the increasing disrupted markets
Making your operational interactions lean, agile, flexible, and responsive
Deploying relevant cloud services—SaaS, PaaS, and IaaS—

across your operational model
Many ignored their lines of business new concerns and expectations, they thought, "Let's not complicate our lives, our job is to give them the tools they need." They were wrong, Nine West Holdings, The Bon-Ton Stores, Toys R Us, Remington, Southeastern Grocers, Tops Markets, went bankrupt this year. Read what Business Insider's Hailey Peterson said about it in a recent article.
Some of the tremendous and amazing benefits of the Transform Your Business with Enterprise Cloud Now™ keynote are:
Learning the new business transformation thinking will make you the favorite IT partner of your lines of business or clients
Understanding industry disruption, impacts on operational models, and revenue potential of cloud will make you instrumental to your company's or clients' transformation
Connecting the dots between cloud engineering, operational model transformation, and innovation implementation will make you, the architect of your company's profitability
A broad revenue perspective in the technology space that's increasingly adopted worldwide
The points developed in, Transform Your Business with Enterprise Cloud Now™, have been praised in several international technology events including the Hamburg Aviation Conference (HAC), and featured in business magazines of reference like Forbes Tech and ZDNet.
We Show You How to Monetize Your Cloud Investments! Attend the Keynote Speech Now!