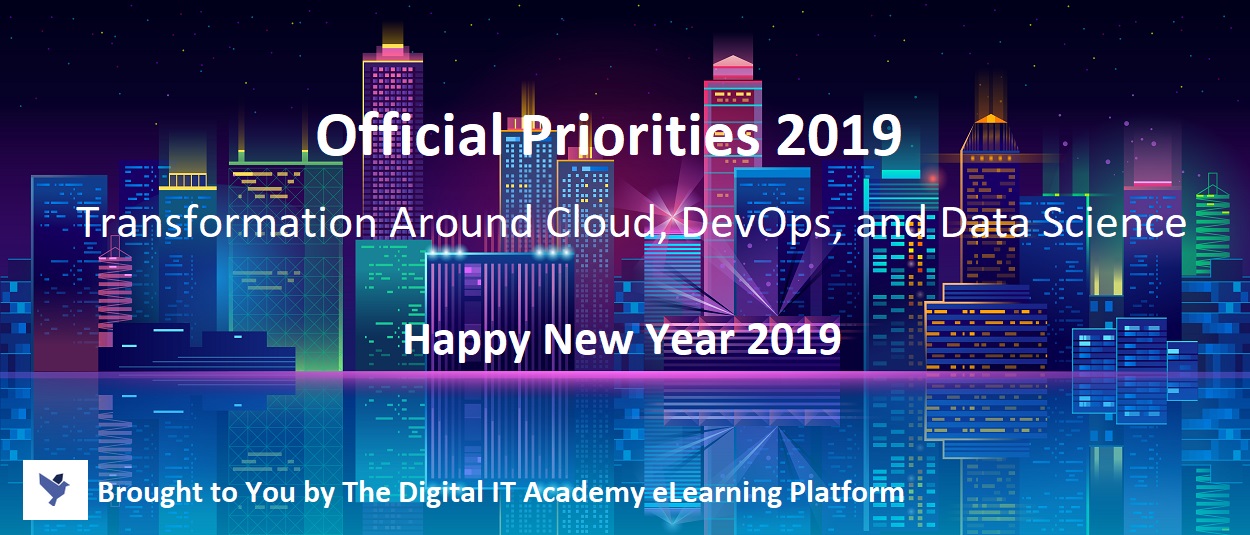 The time for predictions has come. What trends will affect your industry and markets? How should you deal with them? What technologies should you invest in? This article provides unexpected answers.
The Rational, Comprehensive, and Realistic Prediction Approach
Predicting industry and market trends based on the innovation potential of the emerging technologies doesn't make sense. The reason is simple, what matters for your company is profit, and a business doesn't get profitable just because you implemented Cloud, DevOps, Blockchain, AI, or whatever technology. Things aren't as simplistic as those marketing rosy speeches.
The best approach is to assess the disrupting market impacts on businesses and derive from them priorities CEOs and CIOs should focus on.
That's how top industry analysts perform predictions!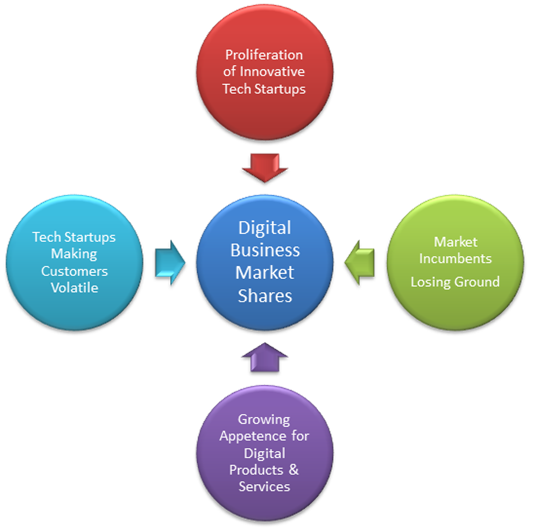 The Five Forces framework helps to address four fundamental issues of your next IT strategy:
Threat of New Entrants - Are there new entrants in your market? Who they are? How do they affect your business? What's the impact on your business competitiveness?
Power of Market Incumbents - How influential are your market's incumbents? How do they affect your business? What's the impact on your business competitiveness?
Threat of Product Substitution - Are there substitutes to your company's products? How do they affect your business? What's the impact on your business competitiveness?
Influence of Customer Choices - How influential are customer choices on your business? How do they affect your business? What's the impact on your business competitiveness?
Let's see what story the Five Forces model tells about today's global business trends!
The Critical Findings Most Analysts Miss Out
Using Michael Porter's proven Five Forces framework to predict 2019 trends, I brought out this fundamental finding - Getting or keeping market shares in the rising digital business is what businesses will be vying for in 2019.
Here are the three fundamental reasons most experts fail to provide:
Google, Apple, Facebook, and Amazon (the GAFA) as well as the proliferating tech startups and the platform business models that support them will continue to expand, disrupt markets and push unprepared companies to bankruptcy
The proliferating tech startups and the innovative and affordable digital products and services they deliver make customers volatile making incumbents and unprepared small and mid-size businesses face concerning customer churn
There's, whatever industry, a strong appetence for affordable and highly functional digital products and services

The Drivers of Your Winning 2019 IT Strategy
Based on the finding and the three fundamental reasons of the accelerating market disruptions, I recommend these key drivers for your 2019 IT strategy:
Build on Cloud Computing to cut and save IT cost, allow your business lines to sell at highly competitive prices and challenge the GAFA and the innovative tech startups
Adopt DevOps to not only align IT to your business lines but also make them agile and responsive to market opportunities

that pop up worldwide

Deploy Design Thinking mindset and practices to establish innovation as a competitive advantage and resist the GAFA and the innovative tech startups out there

Not said enough, implement two-sided digital platform to create community of clients as a means to continuously generate revenue and keep them loyal

Technology Investment Priorities 2019
Before moving forward with technology investment decisions, it's important for you to have a clear idea of the competitive challenges to meet. What the Five Forces model tells us is, "To resist and survive the GAFA and tech startups competition, business lines should be able to continuously deliver innovations cheaper and quicker."

That mission statement raises the three issues technology can help to address and succeed in today's business:

How to continuously innovate?
How to be competitive price-wise?
How to be responsive to market opportunities?
In order to effectively address these challenges, I recommend investment in five technologies:
Cloud Computing
DevOps
Data Science
Design Thinking
and Two-Sided Digital Platform
Here is why!
Cloud Infrastructure Will Make the Business Agile, Responsive and Allow Price Competitiveness
Being competitive from the price and shipping standpoint are competitive assets that'll help you resist, survive and even challenge the GAFA.
The secret for lowering your price is simple: Cost Reduction. The rule is, the lower cost, the greater revenue, the higher gross margin.
Your cloud platform through infrastructure virtualization erases substantial CAPEX (Capital Expenditure) and OPEX (Operational Expenses) and provides extraordinary profit levers.

Another area IaaS cloud can be helpful is, the responsiveness requirement of today's competition. By automating IT operations e.g., virtual machine deployment, infrastructure monitoring and scaling, IaaS cloud significantly narrows IT operations lead time, makes the business agile and responsive to market opportunities.
Amazon Web Services (AWS) and Azure in a Rackspace Managed Enterprise Cloud Now™context to support your cloud infrastructure are solutions I would recommend.
The benefit of getting AWS and Azure managed by Rackspace is, you get your company focused on its core business. That's a significant competitive advantage.

DevOps Will Augment the Business Agility and Responsiveness and Offer Room for Price Competitiveness
To properly address the competitive issues raised by the GAFA and the many tech startups out there, you definitely need a DevOps capability.
Operational agility, responsiveness, staff collaboration, competitive pricing, and innovation mindset are the assets your business lines need.
Two features of DevOps are fundamental to your business lines competitiveness: the DevOps culture and the CI CD pipeline. DevOps culture through Agile and Lean practices creates a collaborative work environment that's not only conducive for innovation but also makes the business agile.
That's my experience, I think Amazon Web Services (AWS) CodePipeline augmented with Docker-based Microservices and Elastic Container Service for Kubernetes (EKS) is an interesting solution to invest in.
Implemented in a Rackspace Managed DevOps Now™ context, it not only provides the benefits mentioned above but also makes the company focused on its core business.

Data Science Will Keep the Business Connected to Markets and Responsive to Growth and Revenue Opportunities
Responsively spotting customer and market expectations while quickly uncovering innovation opportunities is another competitive advantage you need to resist, survive, and challenge the GAFA and the innovative tech startups out there.
You need a Data Science capability combining AI and Big Data Analytics. Three of top Data Science solutions to explore are KNIME Analytics platform, Alteryx Anaytics, and H2O AI.
Design Thinking and Two-Sided Digital Platform are the additional capabilities you'll need to effectively compete with the GAFA and these innovative tech startups.
Design Thinking will create a human and collaborative environment that's conducive for i innovation while Two-Sided Digital Platforms will help to attract clients, keep them loyal and guarantee continuous revenue.
Explore and Invest in The 2019 Winning Digital Organization

You need to be aware that certain expert recommendations are dangerous, they discrete (and sometimes scatted) implementations of the emerging technologies will result in the expected business benefits. They're wrong!
What's a stake is the transformation of your business around Cloud, DevOps, Data Science, Design Thinking and Two-Sided Digital Platforms. The following figure shows an overview of the operating model that should support the IT organization: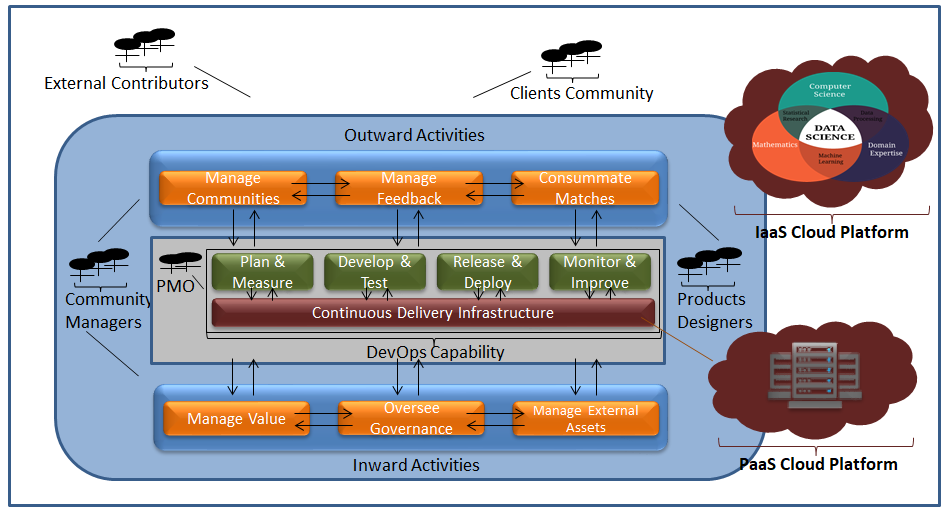 Explore the winning digital operating model for 2019 in the The DevOps Revolution - From IT Modernization to Digital Revenue it's on Amazon.

Let me say it once again, pretending that the discrete or scattered implementation of Cloud Computing, Big Data, DevOps, AI, IoT, Docker, Microservices, Kubernetes will make your company competitive and profitable is a pure illusion. Your stake for 2019 is, the transformation of your IT operating model.
The Digital IT Academy will continue to support your career, make your IT organization relevant, and accelerate your business digital growth with new ePresentations available soon including:
Succeed Your DevOps Transformation Project with AWS CodePipeline - Strategy, Business Case, Project Setup, Agile Deployment, CD CI Pipeline Implementation
The Enterprise Cloud Migration Project - Best Practices for Navigating the Future of Enterprise IT
Optimizing Your Enterprise Cloud Infrastructure for Digital Profits - From ITIL to The Enterprise Cloud Now Framework
Revamping The Business-IT Relationships with Microservices, Containers, and Containers Management Platforms
Browse The Digital IT Academy's ePresentations Now!
Happy New Year 2019!!!